HOME
>
Sports
A company a cut above the rest for high-end dressmaking
Date : 2022-07-11 10:36:01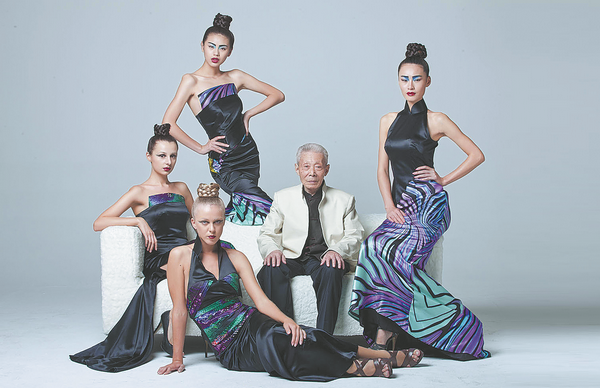 Chu Hongsheng (center), founder of Chinese fashion brand Hanart, devoted himself to crafting cheongsams until his death in 2017. [Photo provided to China Daily]
Behind a nondescript door on Anhua Road in Shanghai's Changning district lies a sprawling 600-square-meter fashion studio that has been around for more than 20 years.
Here, at Hanart's studio for high-end, tailor-made cheongsams, also known as qipao, master artisans can be found hand-stitching exquisite dresses alongside creations that have been around for dozens of years.
Founded by Chu Hongsheng in 2000, this studio is the heart of Hanart's operations in China and one of the reasons why this classic dress has been making waves around the world.
Born in 1918, Chu had devoted himself to crafting cheongsams for more than 80 years until he died in 2017. A recipient of the Shanghai International Fashion Federation's Lifetime Achievement Award in the field of advanced customization, Chu was renowned in the fashion world for his skills in creating highly customized cheongsams and traditional men's clothing.
Chu made at least 5,000 cheongsams in his lifetime, many of which were worn by celebrities and artists, including the popular Shanghai actress Hu Die and Soong Mei-ling, the second wife of Chiang Kai-shek.