HOME
>
Travel
Production lines start rolling again in Shanghai
Date : 2022-07-08 18:24:54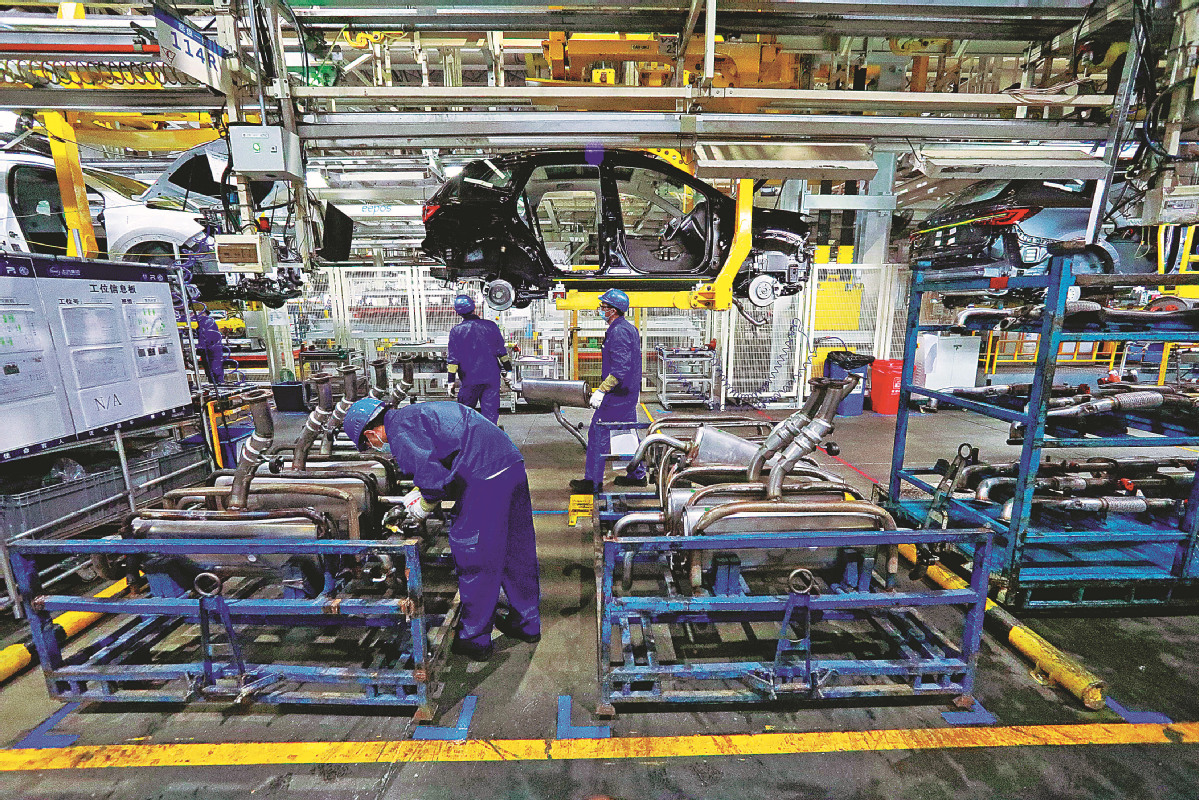 Production resumes at SAIC Motor's plant in Shanghai's Pudong New District on April 19. [Photo by Zhu Xingxin/China Daily]
Logistical advances help companies resume output
A growing number of manufacturers in Shanghai have relaunched their operations despite the challenges posed by COVID-19, showing their confidence in the city's economic outlook.
The resumed production comes as insiders and experts said various challenges remain before industrial and supply chains see a complete recovery.
At SAIC Motor's vehicle production bases, single-shift output resumed at the end of last month.
Online news platform ThePaper.cn quoted Wang Xiaoqiu, president of SAIC, as saying at the listed company's annual performance news conference on May 5 that with the gradual recovery of supply and logistics chains, the manufacturer is working hard to make up its losses experienced during the outbreak.
Wang said the company's capacity in Shanghai accounts for about 30 percent of the group's total.
"Strictly following the epidemic prevention and control rules, we are relaunching our business at an accelerated pace, trying to increase capacity to the pre-epidemic level as soon as possible," Wang said.
China's largest listed automaker began stress tests at the plant on April 18, and the first complete vehicle rolled off the assembly line the following day.
As of April 29, up to 2,400 vehicles had left the restarted assembly line at the SAIC Motor's plant in Lingang on the southeastern fringes of Shanghai, said Chen Peifeng, a director at the factory.
"Our daily capacity currently amounts to about 300 vehicles, a rise of some 50 percent from the stress tests period," Chen said.
Meanwhile, following resumed production at Tesla's Shanghai Gigafactory on April 19, about 10,000 vehicles had been manufactured as of April 30, Wu Qiang, deputy director of Pudong New Area, said at a news conference on May 7.
Recovering about one-third of its capacity before the current COVID-19 outbreak, Tesla expects its output to reach pre-pandemic levels in the middle of this month, China Business News, or CBN, reported.
An industry insider speaking to CBN on condition of anonymity said, "Numerous orders call for resumed production and deliveries, so raising capacity as soon as possible is the priority," adding that it currently takes at least six months for vehicles to be delivered.
Tao Lin, vice-president of Tesla Inc, told CBN: "We have full confidence in China's development, and we believe that pandemic-related challenges are only short-term. Everyone is resolved to confront the challenges, and we think that production will soon fully recover."
Tao added that as the automotive industrial chain is extremely long, Tesla cannot resume stable and consistent output without all its suppliers operating normally.
This requirement is equally true for SAIC Motor.
Xu Guangqing, a director of the company's passenger vehicles logistics division, said: "Along with the gradual recovery of logistics and supply chains, we have thoroughly evaluated conditions at about 400 of our suppliers. We have examined their capacity, stock and raw materials, as well as their staff numbers and production situation, so that we can provide assistance to our downstream suppliers in resuming output.
"In the meantime, we are also working actively with government departments to work out green channels to ease pressure on supply and logistics chains."
German auto parts supplier Continental AG said: "The automotive industry is sparing no effort in ensuring stability ... Our Shanghai plant is currently still under closed-loop production, with about 35 percent of our staff operational for the moment. Closed-loop production is proceeding smoothly."