HOME
>
Magazine
A master's works give art emotional depth
Date : 2022-07-11 14:46:31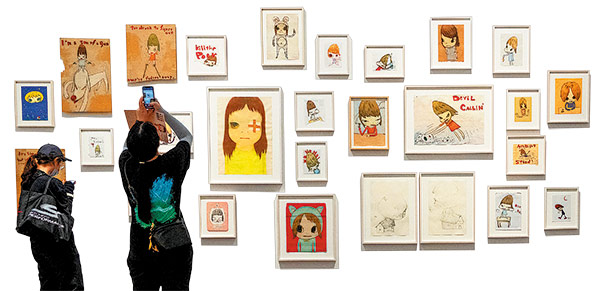 Yoshitomo Nara exhibition at Yuz Museum in Shanghai.[Photo provided to China Daily]
Exhibition in Shanghai highlights encounters throughout his life, Zhang Kun reports.
The Japanese artist Yoshitomo Nara is among the most revered artists of his generation, best known for his portraits of a girl with piercing eyes. These ominous-looking figures have been widely exhibited worldwide.
So when an exhibition of his works in Shanghai was closed because of the pandemic just four days after it opened on March 5, it would have added to the despondency that many felt as COVID-19 cast its pall over the city.
The good news is that just as the city has opened up again, doors to the Yoshitomo Nara exhibition at Yuz Museum in Shanghai reopened on July 1.
It is the largest showcase of the Japanese artist in China, consisting of more than 800 paintings, sculptures, ceramic and works on paper, providing a comprehensive overview of Nara's prolific career spanning 37 years.
It is jointly organized by Yuz Museum and the Los Angeles County Museum of Art as a highlight of the Art West Bund 2022 of Shanghai.
The exhibition was originally due to run from March 5 to Sept 4. Yuz Museum, a private institution on the West Bund, is working with overseas collectors and agencies to extend the contract for borrowed artworks appearing in the show.